Chilean Rosehip Seed Body oil with Jojoba & Vitamin E
You've come to the right place for our most reviewed
and cult favorite Chilean Rosehip Seed Body Oil.

Our deep yet light moisturizing, nourishing body and massage
oil will hydrate even the most tired skin. Growing high in the Chilean Andes, Rosehip Seed oil has powerful anti-aging and fine line reducing results when used on the entire body and face.

Pair Rosehip oil with northwestern Mexican Jojoba oil and you have a mighty moisturization duo like none other. This unique all-natural blend is packed with minerals and vitamins like E, C, B1 and B3 that will transform your skin from drab to youthful in mere moments – and it will only get better with continual use.

Antioxidants and essential fatty acids brighten your skin for a truly healthy glow. A must-try for anyone with extremely dry skin.

Also!
Our Chilean Body oil is multi-functional and can
also be applied to your face and hair.

What skin type is it good for?
Normal | Oily | Combination | Dry | Sensitive

Fractionated Coconut oil, Sunflower oil, Jojoba oil, Rosehip Seed oil, Rice Bran oil, Rosemary Leaf Extract, Vitamin E, Natural Fragrance (made from a refreshing blend of Orange oil, Amyris, Lavender and Ylang Ylang)
Dispense an appropriate amount of oil for skin moisturization and massage.

Pro Tip:
Warm in hands prior to application.
OR
Apply immediately after a shower while still wet and put on your favorite cozy, cotton robe allowing your body to dry naturally before putting on your clothes.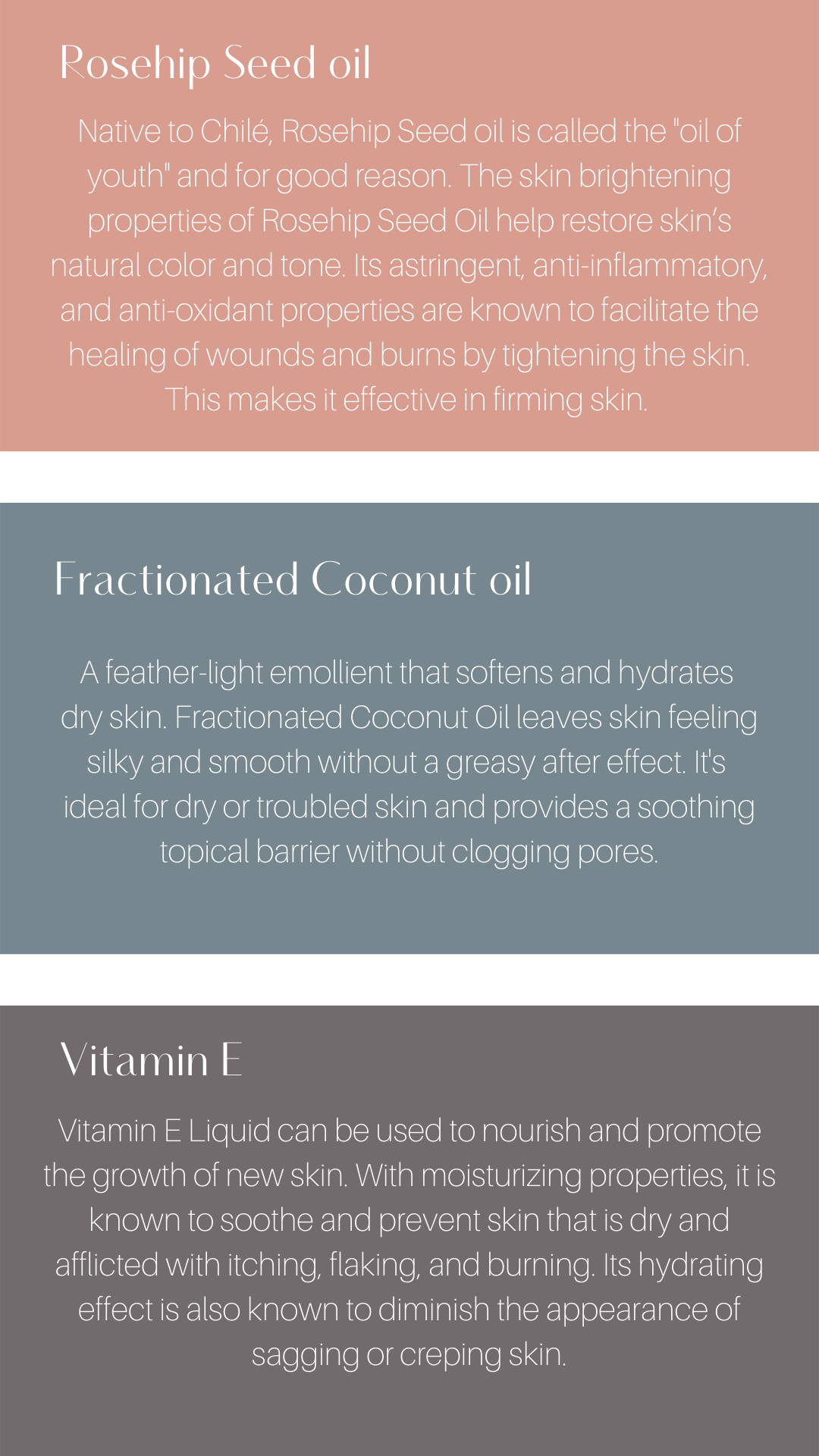 Best oil I've ever used
I've literally never used a better oil in my life. I have normal/combo skin. My skin has never soaked up an oil better and my face is so incredibly soft. I've tried a ton of face oils and rose always has felt the best until this concoction from heaven. You MUST try her products!
My skin has never felt better!!
I am absolutely in love with this body oil! I have very dry skin... thanks menopause. And the cold winter weather only makes it worse. Applying this oil while my skin is still wet/damp is a game changer! It feels nourished, soft, and so healthy after only 1 use!! Not to mention I don't have to worry about absorbing any horrible chemicals or additives into my body like most other skin care products. Thank you Sanara Skincare for creating such beautiful products that truly make a difference.
My 1st order
I love it! Helps with dry skin and I love the fragrance.
I have been using this wonderful oil for treatment of scars (cancer surgery), and I love the results!!!! This product is definitely on my list of "always have" items.
Love this body oil!
I received a sample of this in my order, and I never would have ordered it for myself, because I didn't think I even liked body oil, especially a scented one. I love this oil! It feels so good going on, and my skin just loves it and soaks it right up. The scent is lovely, and I really enjoy the scent as I apply it, and then the scent fades as the oil is absorbed, which is perfect for me because I don't want the scent to be there later when I put on my perfume. This oil is so super soothing for my skin, especially on my face. Totally converted to using body oil!