Bamboo Fiber and Mango Seed Body Polish with Cupuaçu & Vitamin E
Hermosa, say "nos vemos" to dull, dry, skin and breakthrough to fresh, radiant, youthful skin! Take an eco-conscious step away from typical sugar and salt body scrubs and consider a gentler approach of beneficial exfoliation with our bamboo fiber polish. Proper and periodic exfoliation is an important part of every skincare routine.

This environmentally-responsible exfoliator of sustainable bamboo fiber removes dead skin cells gently and is less likely to tear, damage the skin. Bamboo has been found to help fortify skin, while natural Mango seed and ultra-hydrating Cupuaçu butter deliver soothing benefits. Exfoliate dead skin cells effortlessly; your body will thank you later! A delightful blend of Mango Seed, Aloe Leaf extract, Vitamin E and antioxidants combine to get you back to glowing in your own skin.

FINALIST Indie Beauty Expo "Best in Show" Body Exfoliator

What skin type is it good for?
Normal | Oily | Combination | Dry |Sensitive

Vegan, Cruelty Free, All-Natural, Pregnancy Friendly

Mango Seed Butter, Cupuaçu Seed Butter, Coconut Oil,
Aloe Leaf Extract,Bamboo Stem, Sunflower Seed oil,
Rosehip Seed Oil, Rosemary Leaf Extract,Acai Berry,
Vitamin E, Natural Fragrance (made from a refreshing
blend of Orange oil, Amyris, Lavender and Ylang Ylang)
Using the scoop inside, apply on a cleansed body 1 to 2 times per week, gently rubbing in the soft bamboo fibers. Allow the polish to sit on your skin for a few minutes letting the botanicals penetrate and moisturize. Then rinse.

For best results follow up with Sanara body butter or body oil.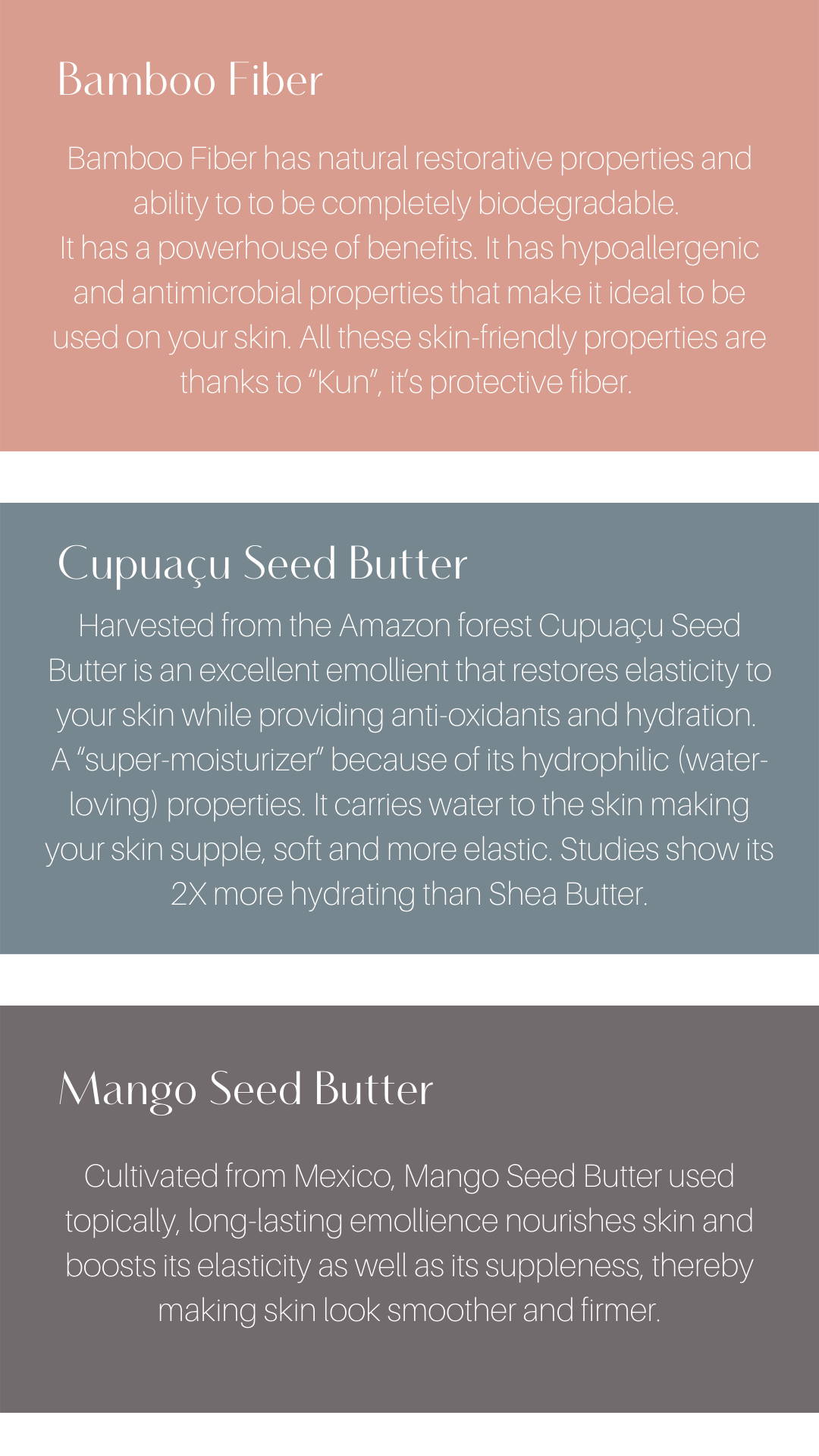 Amazed at the quality and results!
This scrub is amazing! It's gentle but effective and leaves my skin smooth and glowing. You get the benefits of a exfoliating without the irritation. I absolutely love having this as part of my routine..
Smells Heavenly!
Love the texture, the smoothness and the awesome smell!
Great fiber scrub
My husband and I use the scrub for our feet. Excellent scrub and moisturizer.
Fantastic Body Polish!
I absolutely love this scrub. The scrubby particles are good and scrubby but not harsh. After rinsing it off, the scrub leaves behind some oiliness, which I love. My skin absorbs it fairly quickly, and it leaves my skin super soft. This is now my favorite exfoliant!
Love this for my skin!
I've struggled with bumps on my arms and legs for years and this body polish really makes my skin feel so soft and smooth right after we rinsing off in the shower. I highly recommend trying! I need to try their body oil or butter cream next!