Black Brazilian Clay Soap Bar with Jojoba oil and Cupuaçu Butter
Embrace the soothing touch of our Black Brazilian Clay Soap Bar, dear friend. Crafted with care, this transformative soap is a gentle healer for your skin and soul. Infused with the tranquil essence of our Tranquila essential oil blend, it's a balm for the spirit.

Enriched with organic Olive oil, Coconut oil, Cupuaçu butter, and Jojoba oils, it nurtures your skin's well-being.

The Black Brazilian clay, rich in minerals, restores balance without depleting your skin's natural radiance. It's your moment of self-care, washing away worries, and replenishing your spirit.

Perfect for both face and body, let the healing begin.

Full Size: 5 oz. | 141 g
Travel size: 1.25 oz. | 35 g

What skin type is it good for?
Normal | Oily | Combination | Dry | Sensitive

Vegan, Cruelty Free, All-Natural, Pregnancy Friendly

Saponified oils/butters of Sunflower*, Coconut*, sustainable Palm*, Castor*, and Safflower*, Tranquila essential oil blend of Orange, Lavender, Ylang Ylang, Amyris, Sodium Lactate; Black Brazilian Clay, Olive*, Jojoba*, Cupuaçu; Kaolin clay; Rosemary Extract
Use daily as needed on face and body.

Cold-process soap is best kept on a soap dish. Letting
the bar dry completely while standing up right on its
side will prolong the life of your bar.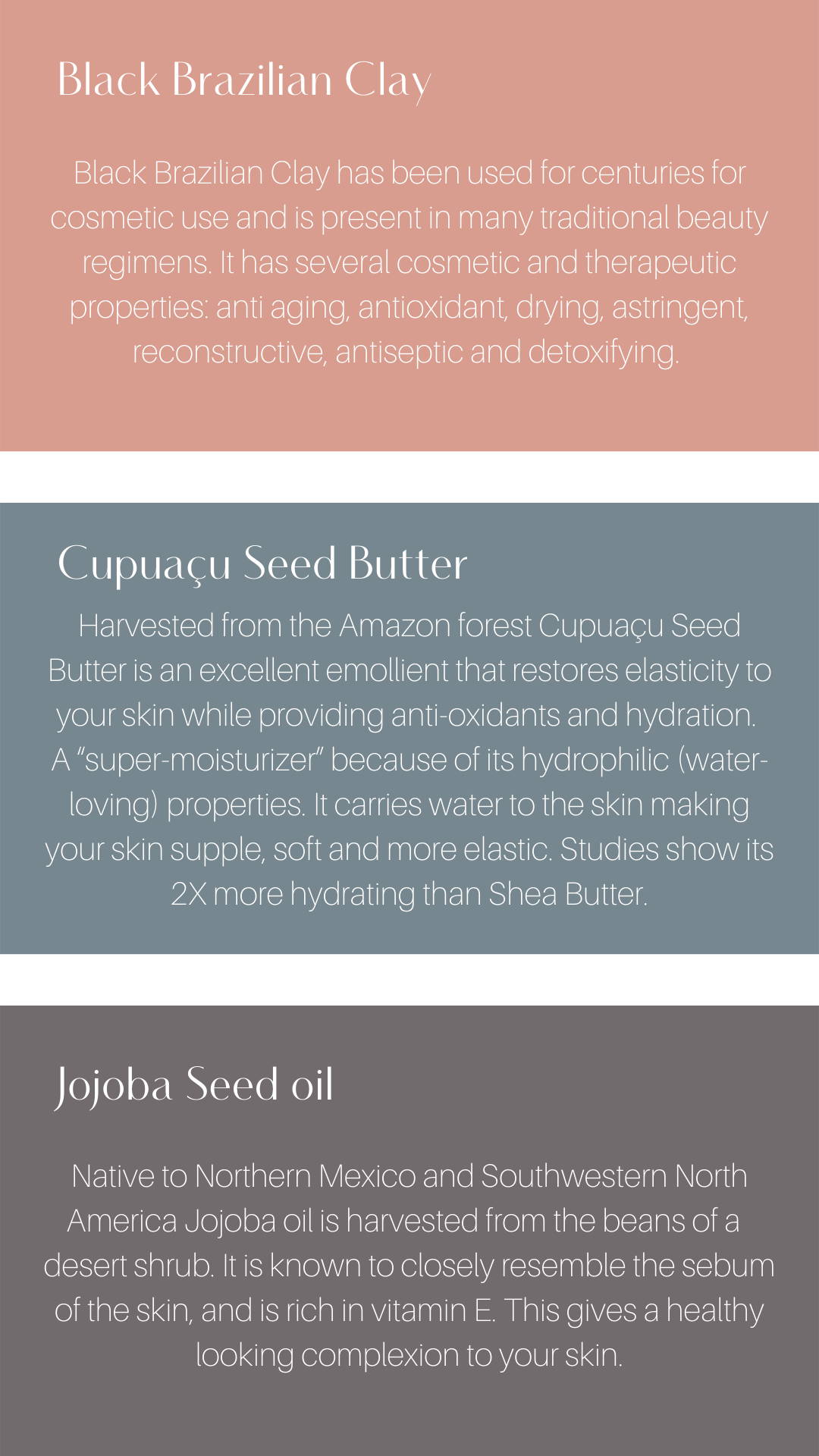 Great soap!
This bar soap is amazing! So creamy & makes my face feel wonderful. Highly recommend!!
Really Nice Soap
This is really nice soap! It lathers easily, and the lather feels soft and creamy. It smells really good. I feel like it cleans thoroughly while still being gentle. I love it!
My New Fave!
I've been telling everyone about the new soap I'm in love with. I gave myself a couple weeks to wash up with it to give it a fair review and I love it as much now as I did the first time I used it.
Smells divine! Cleans my skin (no left over makeup or sunscreen residue) and doesn't leave my skin with that tight dried out squeak. Absolutely to die for!